Flying Changes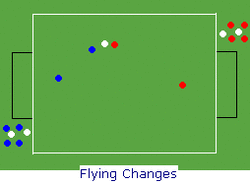 Flying changes is one of my favorite soccer training drills and incorporates a variety of game related soccer elements. The game is fast moving, with many goal scoring opportunities.

Two full sized goals with nets make this drill efficient and exciting! Without the goals and nets the drill is a disaster! Face the goals between 25 and 35 yards apart. Separate your players into two different colors and place each group next to the goal they will defend.

To start the game, have two players from each color compete in a game related scrimmage. The team who scores, stays on, and the team who gets scored on must go back to their line. Immediately, two players from the side scored on, enters the field with a new ball and attempts to score on the remaining team. If the ball ever goes out of play, the team who touched it last must go back in line and the next team of two immediately attempts to score on the remaining team.

Variations:
Teams of three or more
Full-time goal keepers
As each new team enters the play, they must shoot the ball like a quick free kick!
Coaching Points:
Instruct players to look for the shot on goal first, the assist second, and possession third. This is an attacking exercise, not a possession drill.
Emphasize quick transitions from offense to defense, and players must be mentally alert after scoring, immediately ready to defend against the next team.
AYSO's Coach's Corner: "
Teach Your Kids Transitional Play"